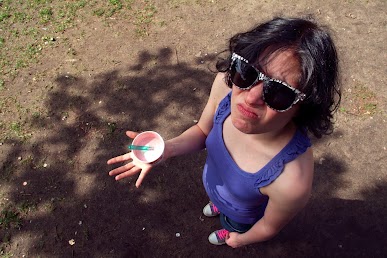 Hi Friends,
I was catching up on reading the other day and I found this quote:
"If we don't get the epidemic of childhood obesity in check, for the first time in a century children will be looking forward to a shorter life expectancy than their parents."
I remember when this first came out as headline news in 2002. There were  countless articles and news reports on what could have possibly caused this health epidemic – fast food, video games, advertising, pop culture.
What was really interesting to me, is that everybody was blaming external factors for the poor health of our kids. It was always someone else's fault, from corporations to the health care system or even the government.
This blast from the past reminded me how grateful I am to know that we are all responsible for our own health – mentally, physically, emotionally and spiritually. I strongly believe that we were all born healers and have the capacity to learn how be in complete control of our health.
Whats refreshing to know is that in this day and age, I don't seem to be alone in this belief.
For example in the movie Avatar, what moved me is the powerful message that we are all connected and have the ability to heal ourselves and others.
Did you also get this message when you watched it?
Even though Avatar is a science fiction movie, it seems as though the concept of  healing oneself is now becoming more and more accepted.
Although I'm sure not everyone accepts this belief.  Whenever there is a new radical idea that challenges current world view, it will always receive some degree of criticism.
Alternative healing used to be one of those radical ideas. It is now currently between the stages of growth and maturity. It's been studied, validated and is now moving towards general acceptance.
Here at Silva we have conducted countless research projects and published  reports on scientific evidence behind energy healing since the 1960′s. My father, Jose Silva, was one of the first to scientifically prove the power of mind and how it can heal the human body.
So what's next?
Maybe it is because I grew up exposed to my father's research, I always believed that energy healing will become a natural part of the medical community.
What I want to know is what you think.
Have we become a healthier society  in 2010 than in 2002?
Do you believe there has been a shift in global consciousness?
Are people taking more control of their own health? What has changed in your life with your beliefs towards your health?
So is Avatar really science fiction after all?
I look forward to discuss your thoughts.
Better and Better,
Laura
Related Posts: