The Three Finger Technique
One of The Silva Method's core techniques is the Three finger technique. Check out this article to learn more about Three Finger technique and how it can be used to improve all aspects of your life, not just your memory. Some of the highlights in this article include: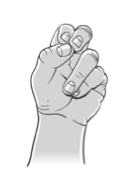 The concept behind the three fingers technique.
Understand that the problem with memory is not storage – anything that's been impressed on the brain remains there. The problem is retrieval. Learning to remember dreams, to associate information with visual clues, and using the Three Fingers Technique to program the desire to remember at will boosts your ability to retrieve any memory, at any time.
How you can use the three finger technique and alpha to improve you memory
An video of Laura Silva Quesada explaining how our brain works.
A list of addition ways the Three fingers technique is beneficial.
Click here to read the aritcle. and let us know what you think. Also, share any story you have about the Three Fingers technique.



Learn this and other healing techniques of the Silva Method



Sign up and download a free Mind Body Healing Kit to enjoy the healing effects of the alpha sound!