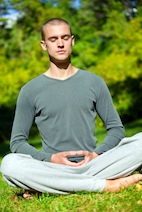 Meditation
Meditation is good for the body, mind and spirit, and affects the quality of your life in a positive way. It can be as simple as quietly sitting in front of a fire, staring at a lit candle, walking on a beach at sunrise or creating a tranquil place to listen to meditation tapes. Daily meditations can they help to reduce stress and it is a known fact that daily, positive affirmations are one of the types of meditation techniques that you can use in order to reduce unwanted feelings of illness throughout your body. In the article Daily Affirmations: Meditating Stress Away, The Silva Method explains how positive affirmations while meditating can help the overall quality of your life. Here are a few other cool thing found in this article:
Stress and mood changes play a significant role in the types of illness that your body encounters.
One of the most beneficial ways to ease stress is meditation.
Watch Laura Silva sharing how to start a winning day tips.
What makes a good positive affirmation and read a few tips for preparing yourself to recite and receive the daily affirmations are as follows
After reading Daily Affirmations: Meditating Stress Away and apply these concepts to your life, keep us updated on how it's going. We would love to read your succeess story .



Learn this and other healing techniques of the Silva Method



Sign up and download a free Mind Body Healing Kit to enjoy the healing effects of the alpha sound!