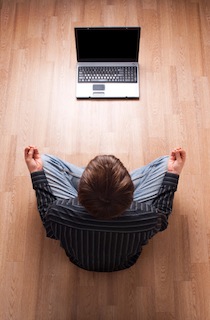 Meditation is the single most potent tool in your personal growth toolkit. Read up on its many hundreds of benefits and you'll agree that a daily meditation practice sounds like a really good idea! Traditional meditation isn't all that easy to master but don't let the image of bearded gurus in mountaintop caves keep you from benefiting from this age-old practice of self-mastery. Believe it or not, all it takes is a pair of headphones, a comfortable place to sit (yes, a beanbag works!), and a little quiet time to yourself.
The challenge for most people is not getting into meditation, it's staying there amidst all the mental chatter and physical restlessness. Anyone can focus their mind for a few seconds or minutes; then the mind starts to intrude, and the moment is lost. In recent years, brainwave entrainment has helped hundreds of thousands of people get into the meditative state. It's fast, effortless and effective. Anyone can meditate now, with no special instruction or years spent acquiring a skill. Many people spend years trying to overcome these challenges so they can experience the benefits of meditation. Brainwave entrainment presents a solution that works.
Experienced meditators, too, can use brainwave entrainment. Instead of spending time getting into meditation and wrestling with your mind to stay in meditation, you can focus on affirmations, visualization and self-awareness. This makes meditation transformational at a much faster rate than traditional meditation.
Binaural Beats
One of the most popular technologies available is called "binaural beats". The technology requires only an audio track and a pair of headphones. Within minutes, you're in deep, blissful meditation.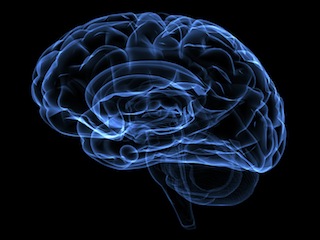 Here's how binaural beats work: two tones of specific frequencies are played through headphones (a different frequency into each ear). The brain attempts to 'reconcile' the difference and so it combines the two into a third tone, which does not exist outside the brain. The brain's olivary nucleus, which controls three-dimensional sound perception, creates a phantom tone in an attempt to reduce the 'noise'.
Binaural beats were discovered in the mid 1800s, but weren't put to use as a brainwave entrainment tool until the 1970s. When you want to meditate, you need to slow your brain's activity from a primary frequency called beta to a primary frequency called alpha. That's the problem – getting into alpha, when your mind is racing.
But researchers discovered that the brain has an interesting characteristic called the "frequency following response" where it syncs its activity, or its rhythm, with an outside stimulus. When scientists discovered this, they realized that people could induce different states of consciousness any time, by listening to binaural beats.
Entrainment is nothing new either. You can see examples of this at a night club, where the beat makes you move, almost automatically… or in Nature, where crickets, frogs and birds will often synchronize with one another. Even mechanical objects can come into sync (such as clock pendulums that swing independently but soon synchronize their movements!). Think of ancient drummers, beating their drums in sync with one another, inducing a trance-like state in themselves and in listeners. Tribal drumming and chanting are perhaps the first examples of people deliberately trying to create altered states of consciousness.
Brainwave entrainment puts your brain into the rhythm, or activity level, of meditation. Binaural beats are effective at brainwave entrainment and they are exceptionally effective at synchronizing the activity of the two brain hemispheres. This has been shown to increase creativity, quick out of the box thinking and improved learning… a very nice effect of meditation, but one you can now enjoy anytime, without wondering if you're going to "get into meditation" or stay there.
Do binaural beats really work?
The answer is, absolutely yes. Music definitely affects our moods. There is no question that you can change your mood according to the music you listen to. But if your purpose goes beyond relaxation and your intention is to enjoy deep meditation and remain in the meditative state for a period of time, then the more precise and directed sounds will be more useful.
If you have never tried meditating with binaural beats, here's an awesome audio to give you a taste of what it's all about: get a free sample download from Omharmonics.
Omharmonics has a unique take on binaural beats – using the primal sound of a heart beating to entrain the mind in meditation. And it makes sense. From the time you were conceived, you listened to your mother's heart beating. As a baby cuddled in your mother's arms, listening to the rhythm of her heart was sure to soothe you very quickly!
So of course combining the rhythm of a human heartbeat with music can help you reach deeper states of meditation.
Sign up and download a free Omharmonics meditation audio
If you've tried Omharmonics – did the binaural beats help you meditate more easily? What are the common stumbling blocks you usually encounter when meditating? We want to hear from you – leave a comment below and join the conversation.
Related Posts: