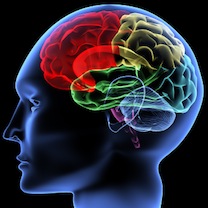 At this stage, you've probably have already learned a lot about the Silva Method, the power of your mind and how it all comes together to help with your natural healing process.  Now it's time to complete all that you've learned by understanding the Beta, Alpha, Theta and Delta brain wave patterns.
Your brain functions on a small amount of electricity, much like a computer. This electrical current vibrates and pulses at various speeds. When you are wide awake, with your eyes focused, your brain vibrates 20 times per second – what scientists call 20 cycles per second or the Beta frequency.
You are probably at this beta level of mind right now as you read this.
When you go to sleep, your brain frequency slows down, all the way to about half cycle per second in the deepest levels of natural sleep. This is known as the Delta level.
In between Beta, the waking state, and Delta, the deep sleep state, there are two other levels of mental activity.
When you are in a light level of sleep or in meditation you are in the Alpha range, which is 7 to 14 cycles per second. This is the center range and this is what we mean by saying "going to your center". Going to the alpha level or centering is essentially the same thing as meditating. When someone meditates, scientifically, they are simply reducing their brain wave frequency to Alpha. The Alpha level is the level we use to activate our minds.
Theta is a level of deeper relaxation or sleep, when your brain waves are at 4 to 7 cycles per second. The table below summarizes the 4 states of brain frequency. This is the state where healing accelerates and also remote healing takes place. (cps = cycles per second)
| State | Brain Wave Frequency | Associated With |
| --- | --- | --- |
| Beta | 14 – 21 cps | Waking State, the five senses. Perception of Time and Space |
| Alpha | 7 – 14 cps | Light sleep, meditation, intuition. No Time & Space limitation. |
| Theta | 4 – 7 cps | Deeper Sleep, Meditation. |
| Delta | 0 – 4 cps | Deep Sleep. You are unconscious at Delta. |
Let me explain you the level of brain frequencies and how they function in a detailed manner in the below video. The video is a little longer so let it load. I have also put a download link for you to download the video if you would like to watch it at your ease.
[youtube]http://www.youtube.com/watch?v=S9RqyEwpRBs[/youtube]