"Case-working" is the highlight of the Silva Intuition Seminar.
This is where participants pair up and take turns using their minds to project their awareness to people unknown to them and "sense" information on the state of health, appearance and personality of these people. It's using strictly for distant healing.
In the video below, I will explain in detail what happens when you participate in a case working exercise in one of our seminars or classes.
Watch the video below to learn about this phenomenon.
These experiences can also be replicated when you subscribe to our home study course, at home, online.
Please always keep in mind though, when you're practicing case working, that no participant is allowed to get information that could be used against others, or that people may want to keep private. The higher mind seems to prevent this sort of information transfer.
The Case Working Worksheet
Here is a sample of the worksheet used during the live event for students to record the information they receive.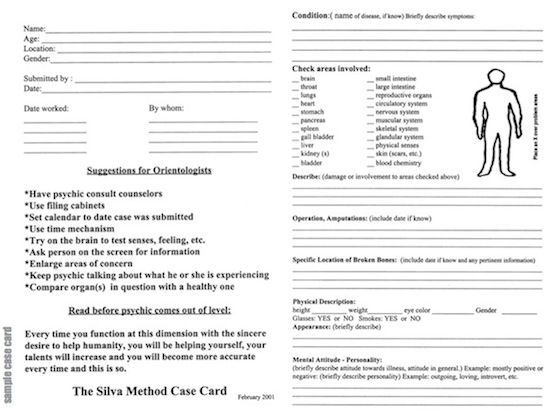 The S.E.E. Software
And here's the online version when you're using our S.E.E software (Silva ESP Enhancer) to work on cases of people around the world.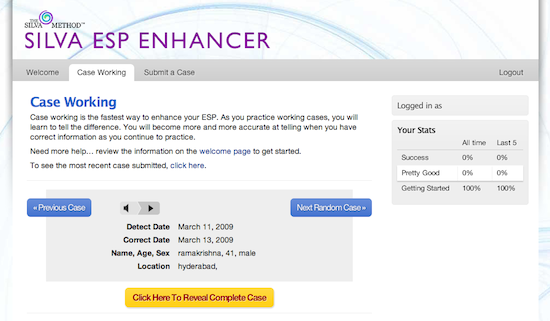 Notice that the details of the case are not given. The intuit only sees the name, age, location and gender. That's all. This is enough for the mind to seek out the missing information needed for healing.

When the intuit is in their alpha level of mind and working on the case, the software reads out to them the details of the case. (This is so they dont have to open their eyes while meditating). After the 'information gathering' session, which can take 2 mins to 10 mins, the intuit open his eyes and clicks on the "Click Here to Revel Information" button to see the actual details of the case. They then gauge their hits and misses.

Here's what a revealed case looks like.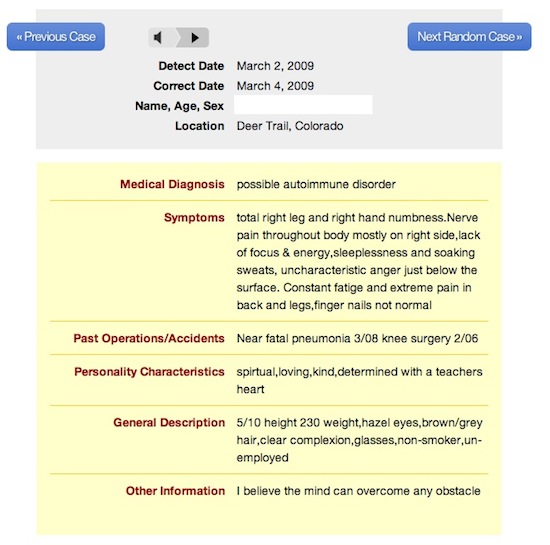 After working 50 cases or so, many graduates are then able to function intuitively with their eyes open. This is the start of a whole new way of living life and contributing to humankind.

I hope that gives you a pretty good idea of the case working section of the program. Share your thoughts with me in the comment section below.
Related Posts: